How to scent your home for Spring
Posted on
The snowdrops in our garden have been in bloom for a few weeks now and I noticed the other day that the first daffodil has flowered. This past week has seen a real mix of mild, sunny days as well as some really chilly evenings. In fact, the temperatures are set to plummet again and tonight it is forecast to dip down to -5! However, in general we are definitely seeing signs of Spring although it hasn't quite "sprung" yet.
It's a time for new beginnings, longer and lighter days and we've also spent some time doing a bit of a Spring clean in both the workshop and the house. This got me to thinking about the scents that greet us whether it be when we come home or even when we enter a room.
At this time of year, we traditionally move away from the heavier, musky scents of winter to lighter florals, refreshing citrus and fragrant herbaceous notes, reflecting the changing seasons outdoors.
How to scent your home for Spring
Reed diffusers
Reed Diffusers are perfect for that "always switched on" scent. They are simple, fuss free and really economical. You can leave them to their own devices and always return home to a really fabulously scented home. For smaller rooms, you can reduce the intensity by using less reed sticks. Perfect for any room in the home, Reed Diffusers work well in hallways to welcome you home as well as living spaces, bedrooms, kitchens and not forgetting bathrooms.
Refills are also available, just remember to replace your reed sticks after a couple of refills as the sticks can become clogged over time.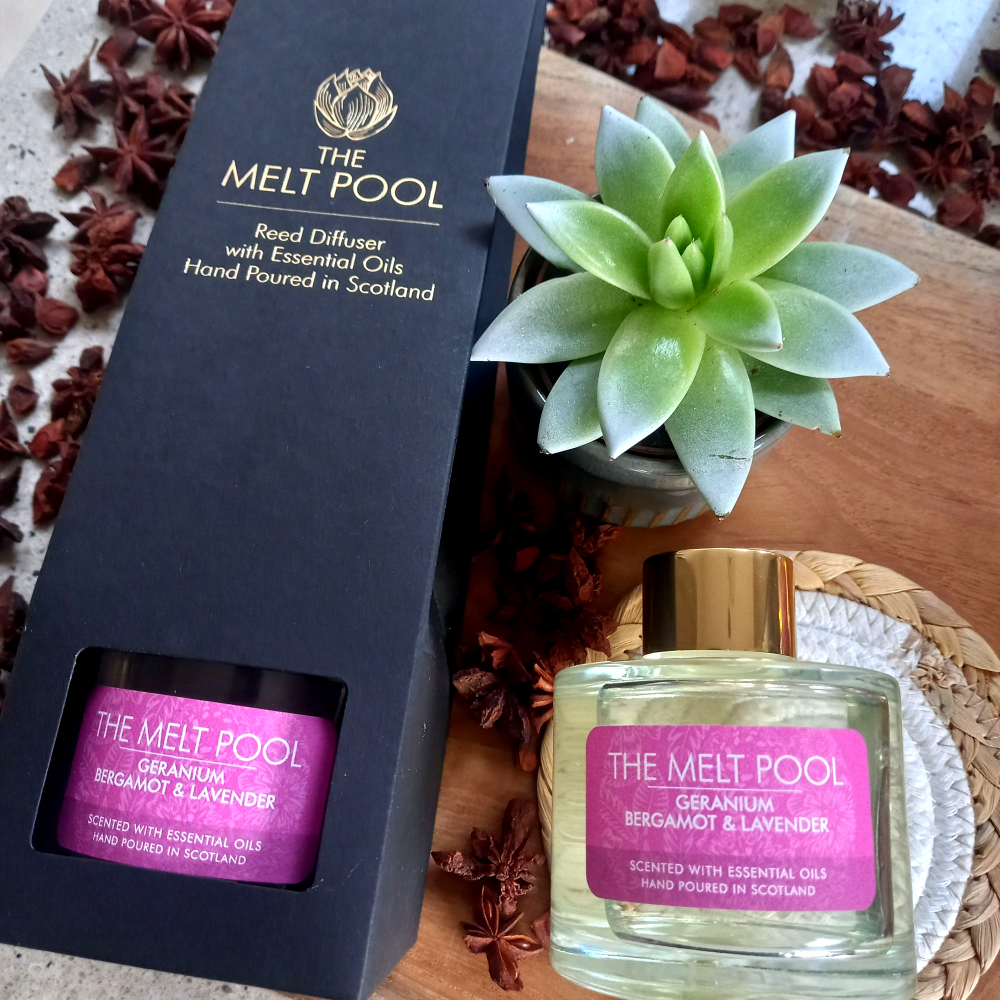 Scented Candles
Nothing sets a more relaxing atmosphere than a scented candle. At The Melt Pool, ours are made by blending natural plant based soy wax with essential oils. This results in an aromatherapy candle that allows you to harness the benefits of the essential oils - what better way to relax and de-stress.The flickering flame is also perfect for setting a cosy mood - try lighting your scented candles at dusk and watch how beautiful the effect is whilst there is still some light left outside.
To maximise the lifetime of your candle, make sure you allow the pool of melted wax to reach the edge of the candle container. Place candles on a heat resistant surface out of the reach of children and never leave a burning candle unattended.
For best results trim the wick to a length of 5mm before each use.
Choosing Your Spring Scent
Choosing the right scent is always a matter of personal preference. We would recommend Our Lemongrass and Lavender for hallways - it's a zesty uplifting scent to welcome you home. Geranium with Bergamot and Lavender is the ultimate relaxation scent and perfect for bedrooms. For kitchens and bathrooms, try Peppermint with Lavender and Rosemary - this refreshing scent is perfect for cutting through odours in no time.
The Best Spring fragrances
Relax with Geranium, Bergamot & Lavender
Uplift and rejuvenate with Lemongrass & Lavender
Refresh with Peppermint with Lavender & Rosemary
Find out more about our collections of luxury scented candles and reed diffusers at www.themeltpool.com